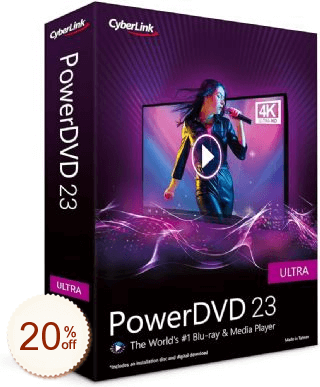 CyberLink PowerDVD 30%割引!
クーポンコード:
Free CyberLink Cloud 100GB (12 months) - for PowerDVD 21
11,379 枚購入済み
STANDARD (Lifetime License)
10% off $53.99
ULTRA (Lifetime License)
30% off $69.99
PowerDVD 365 (Annual Plan)
10% off $49.49
期間限定オファー:
Cyberlink PowerDVD 20 is a video and audio playing software. PowerDVD provides users with multi-dimensional service functions such as high-quality video playback, perfect sound processing, complete playback and navigation, and so on. In terms of format support for video and audio, PowerDVD has helped users adapt to the commonly used formats such as Dobly AC3, DVD/VCD, WAV/MID/RMI, MPG/MPV, MP2/MP3, M1V/M2V, etc. PowerDVD uses the leading professional digital audio technology to output high-quality audio, allowing you to enjoy the acoustic difference between professional multi-channel audio and lossless audio formats (such as FLAC and DSD). PowerDVD provides users with two playing modes: PC mode (to experience the best immersive entertainment) and the other is TV mode (to rebuild the cinema experience in your home). Users can choose to use it according to their own needs. For those friends who often like watching movies and TV programs, you might as well buy PowerDVD to experience it. Maybe you will discover a brand-new movie-watching experience from then on.

Cyberlink PowerDVD Features

1. High-quality video playback function
Enhance the smoothness of playback and eliminate the image jitter

2. Perfect sound processing function
Certified Dolby Digital and DTS Multi-channel Decoding Module

3. Complete play and navigation function
There are various and fast ways to guide movies and paragraphs.

4. Excellent multilingual ability
Support double subtitle function

5. Play your favorite media
A player can play almost any type of media on PC, including movie files, CDs, ISO, and photos, or project them onto TV.

6. Advanced definition entertainment
PowerDVD now supports 8K video.

7. Audio and video playback superior to original quality (applicable to 4K video! )
The unique TrueTheater audio-visual enhancement technology can instantly upgrade the quality of all videos.

8. Wireless entertainment
Use leading media playback devices–-Roku®, AppleTV®, Chromecast™, and Fire TV™ to stream directly from PowerDVD to your TV.
タグ
商品仕様
バージョン:

21

開発者/メーカー:

CyberLink

OS:

ライセンス:

1 PC, One-Time Fee
カスタマー Q&A
おすすめ商品