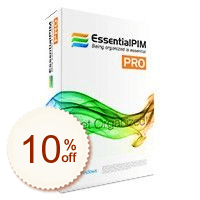 EssentialPIM Pro 1 Year (free updates)
10% off $35.95
EssentialPIM Pro Lifetime (1 user 2 PCs, Lifetime free new versions)
10% off $71.95
EssentialPIM Pro Business 1 Year (free updates)
10% off $53.95
期間限定オファー:
EssentialPIM Pro is a very good personal time scheduling software. It can help users manage personal information well. The functions are simple and easy to use. It can save your data in an electronic form. All your schedules, tasks, notes, address books, and login passwords are stored in the graphical interface.

EssentialPIM Pro has a very convenient operation interface, allowing users to see the scheduled itinerary at a glance. It also enables users to clip files, attach data such as meeting results, plans, etc. And then, users will be able to search for the entered data directly, so you can find some specific information when the event occurred whenever it occurred.

EssentialPIM Pro can also categorize events in multiple ways to make the calendar display more clear. For users who consider mobility, EssentialPIM also provides a portable version that allows users to install directly on the flash drive, allowing you to change your behavior at any time as long as you have a computer available even when you are away. The content of the calendar.

Additionally, EssentialPIM Pro also provides data synchronization with all popular cloud solutions, such as Google Calendar / Contacts / Tasks / Drive, iCloud, Toodledo, SyncML, CalDav, and more. It also natively supports Dropbox.
商品仕様
バージョン:

9.10.1

開発者/メーカー:

Astonsoft

OS:

ライセンス:

For 2 Desktop/Laptop computers and unlimited number of smartphones (iOS/Android) and tablets
カスタマー Q&A
おすすめ商品