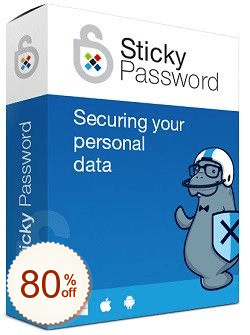 1 user / lifetime
80% off $39.99
期間限定オファー:
Sticky Password is a cross-platform password management software. It can help you remember dozens or even hundreds of different passwords. Sticky Password can synchronize passwords through the cloud and other devices at any time, and it also manages passwords on the website and fills them in automatically. At the same time, there is a password generation function to generate strong passwords without worrying about being too complex to forget. Compared with the free version, Sticky Password プレミアム has Cloud synchronization functions, making it more convenient to use it across devices.

If you're struggling with a bunch of passwords, if you're bored filling out forms every day, you can try Sticky Password プレミアム.

One to all
You only need a master password, which is like a master key, managing all the passwords and forms that take time and effort to fill in.

Advanced Encryption Technology
Using the most advanced AES-256 encryption in the world, which is also used by the military, absolutely secure.

Easy to use
Provide Website account, APP account, bookmark, identity authentication, security memo. There's also a built-in notebook.

Support any platform
Synchronize Password from Windows, Mac, iOS, and Android.
タグ
商品仕様
カスタマー Q&A
おすすめ商品